Welcome to the Olson Lab


We are a group of biomedical researchers based in the Wolfson-Wellcome Biomedical Laboratories at the Natural History Museum in London where we work alongside other talented groups whose research is directed at improving our understanding of the natural world. We collaborate with many labs based at other institutions and are always happy to hear from people with shared interests.
All header images © PD Olson, 2016, except detail from "Vincent's Worms" by 2015 Nobel laureate in Medicine
Wm. C. Campbell
, 2003 (oil on canvas; owned by PDO). Image of tapeworm in jar ©
Naturhistorisches Museum Wien
, 2006.
RECENT PUBLICATIONS


Olson PD, J Hughes and JA Cotton. 2016.
Next Generation Systematics.
Cambridge University Press 356 p.
PUBLICATIONS


Koziol et al. 2016.
Comparative analysis of Wnt expression identifies a highly conserved developmental transition in flatworms.
BMC Biology
PUBLICATIONS


Muehlenbachs et al. 2015.
Malignant transformation of Hymenolepis nana in a human host.
New England Journal of Medicine
PUBLICATIONS
NEWS
4th European Meeting on Planarian Biology
, Sant Feliu de Guixols, Catalonia, Spain, 25-27 September


ISOMORPHOLOGY
: An introduction to the art and science of Gemma Anderson


READ
Alessandro Minelli's commentary
"The tapeworm's elusive antero-posterior polarity"
regarding our work published in BMC Biology.
BBC, NPR
television and radio interviews regarding New England Journal of Medicine publication: "
How did man die of cancer from a tapeworm?
"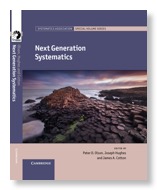 Available Now! Next Generation Systematics
2016. PD Olson, J Hughes and JA Cotton (ed.). Cambridge University Press

NEWS

Now Accepting Submissions:
"Planarians to Parasitism: Evolution, Development and Stem Cells in Flatworms" Special
EvoDevo
+
Parasites & Vectors
Thematic Volume
READ