Welcome to the Olson Lab


We are a group of biomedical researchers based in the Wolfson-Wellcome Biomedical Laboratories at the Natural History Museum in London where we work alongside other talented groups whose research is directed at improving our understanding of the natural world. We collaborate with many labs based at other institutions and are always happy to hear from people with shared interests.
All header images
©
PD Olson, 2019, except detail from "Vincent's Worms" by 2015 Nobel laureate in Medicine
Wm. C. Campbell
, 2003 (oil on canvas; owned by PDO). Image of tapeworm in jar ©
Naturhistorisches Museum Wien
, 2006.
RECENT PUBLICATIONS


Olson et al. 2020. Complete representation of a tapeworm genome reveals chromosomes capped by centromeres, necessitating a dual role in segregation and protection. BMC Biology
PUBLICATIONS


James and Olson. 2020. the tapeworm interactive: inferring confidence scored protein-protein interactions from the proteome of Hymenolepis microstoma
PUBLICATIONS


International Helminth Genomes Consortium. 2019. Comparative genomics of the major parasitic worms. Nature Genetics
PUBLICATIONS
NEWS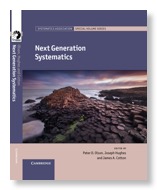 Available Now! Next Generation Systematics
2016. PD Olson, J Hughes and JA Cotton (ed.). Cambridge University Press

NEWS