RECENT PUBLICATIONS


Olson PD, J Hughes and JA Cotton. 2016.
Next Generation Systematics.
Cambridge University Press 356 p.
PUBLICATIONS


Koziol et al. 2016.
Comparative analysis of Wnt expression identifies a highly conserved developmental transition in flatworms.
BMC Biology
PUBLICATIONS


Muehlenbachs et al. 2015.
Malignant transformation of Hymenolepis nana in a human host.
New England Journal of Medicine
PUBLICATIONS
NEWS
4th European Meeting on Planarian Biology
, Sant Feliu de Guixols, Catalonia, Spain, 25-27 September


ISOMORPHOLOGY
: An introduction to the art and science of Gemma Anderson


READ
Alessandro Minelli's commentary
"The tapeworm's elusive antero-posterior polarity"
regarding our work published in BMC Biology.
BBC, NPR
television and radio interviews regarding New England Journal of Medicine publication: "
How did man die of cancer from a tapeworm?
"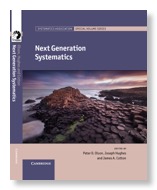 Available Now! Next Generation Systematics
2016. PD Olson, J Hughes and JA Cotton (ed.). Cambridge University Press

NEWS


Now Accepting Submissions:
"Planarians to Parasitism: Evolution, Development and Stem Cells in Flatworms" Special
EvoDevo
+
Parasites & Vectors
Thematic Volume
READ