Please check here for new job openings in the Olson Lab


POST-GRADUATES

Although the NHM does not itself confer academic degrees, we partner with leading UK universities to direct PhD students who may conduct their research primarily at the NHM. Funding opportunities change from year to year; consult the NHM website for current schemes.

Research-based MSc/MRes project student placements in the Olson Lab are available annually through the following London-based academic programmes:

MSc in Reproductive & Development Biology
Institute of Reproductive and Developmental Biology, Hammersmith Hospital, Imperial College, London
WEBSITE

MRes in Biodiversity, Evolution and Conservation
University College London / Natural History Museum / Zoological Society of London
WEBSITE

MRes in Ecology, Evolution & Conservation
Imperial College, London
WEBSITE

MRes in BioSystematics
Imperial College and Natural History Museum
WEBSITE

To discuss PhD and MRes opportunities, please contact Pete Olson

For current and former post-grads, see PEOPLE


COLLABORATORATION


We are always interested in hearing from people with shared interests. Please contact Pete Olson

See also International Travel Grants via The Royal Society

VISITING SCIENTISTS


Interested in utilizing Museum collections & research facilities?

Check out funding oppurtunities for EU scientists via Synthesys:





See also International Travel Grants via The Royal Society

We are always interested in hearing from people with shared interests. Please contact Pete Olson
RECENT PUBLICATIONS


Olson PD, J Hughes and JA Cotton. 2016.
Next Generation Systematics.
Cambridge University Press 356 p.
PUBLICATIONS


Koziol et al. 2016.
Comparative analysis of Wnt expression identifies a highly conserved developmental transition in flatworms.
BMC Biology
PUBLICATIONS


Muehlenbachs et al. 2015.
Malignant transformation of Hymenolepis nana in a human host.
New England Journal of Medicine
PUBLICATIONS
NEWS
4th European Meeting on Planarian Biology
, Sant Feliu de Guixols, Catalonia, Spain, 25-27 September


ISOMORPHOLOGY
: An introduction to the art and science of Gemma Anderson


READ
Alessandro Minelli's commentary
"The tapeworm's elusive antero-posterior polarity"
regarding our work published in BMC Biology.
BBC, NPR
television and radio interviews regarding New England Journal of Medicine publication: "
How did man die of cancer from a tapeworm?
"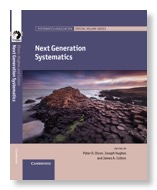 Available Now! Next Generation Systematics
2016. PD Olson, J Hughes and JA Cotton (ed.). Cambridge University Press

NEWS


Now Accepting Submissions:
"Planarians to Parasitism: Evolution, Development and Stem Cells in Flatworms" Special
EvoDevo
+
Parasites & Vectors
Thematic Volume
READ